HRIS or Human Resources Information Systems
HRIS or Human Resources Information Systems, sometimes called Human Resources Management Systems (HRMS) or Human Capital Systems (HCS), are the electronic equivalent of the paper files you may still hold on all employees.  In fact you probably need to hold on to those paper files for contractual, legal or good practice reasons.
A good HRIS is intended to simplify the record keeping, basic HR transactional work and report writing. 
The following is a brief general overview of how most HRIS work.  Details will vary and the underlying architecture may be different although nearly all are based on SQL databases.  The latest systems include a great deal of sophisticated functionality, including Workflows, triggers, self-service, integration with payroll and learning & development systems, and so on.  As you would expect, the greater the functionality the higher the cost of the HRIS.  Many allow you to purchase additional modules if and when you require them.
Employee Details
The HRIS holds all the personal details of employees - name, address, date of birth, National Insurance number - and as much sensitive personal data as you need, at least for equal opportunities monitoring.  So you may want to record gender, marital status, nationality, ethnicity, etc.  That is your people pool.
Post Details
Then it will hold all the job details - an electronic job description.  Most systems allow you to link the actual job description and/or person specification to the post record, often as a PDF document which is easily accessible and not so easy to edit as, for example, a Word document.  The post details will probably specify at least the range of salaries paid for that post - the grade or scale.
Establishment
Linking a post to a department creates the 'establishment' - the database equivalent of the organisational chart. That identifies the team, department, manager, and so on, with the associated hierarchy. 
Employment History
You link people to jobs through their Employment History and then you can track employee's progress through the organisation.  More sophisticated systems allow you to record learning and development requirements and achievements, competences, disciplinary and grievance processes, salary history, and so on.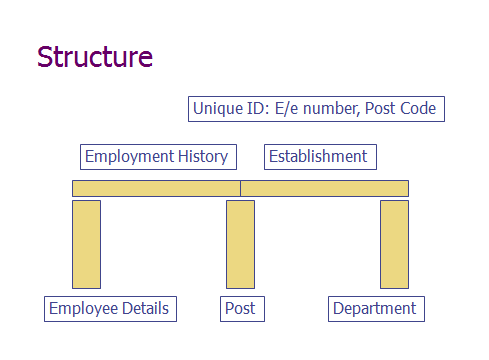 There are a multitude of HRIS systems available but they all work on a similar principle.  It's a bit like a bridge with 3 pillars and 2 joining spans.  To make it work, there have to be some keys or unique identifiers.  Typically these are the employee number that uniquely identifies one individual and a post code that identifies a post - but there may be more than one individual in a post.  Each department will also have its own unique code and often with a built-in hierarchy so that a directorate includes various departments which are made up of one or more teams - and the codes often follow a pattern, for example:-
Directorate A

Department A1
Department A2

Directorate B
So what's the range of choice out there?